Mysterious fire rips through Azeri ammunition dump
Comments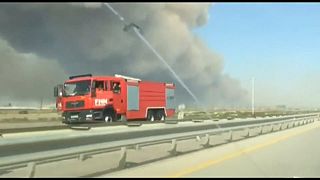 A fire and explosions have ripped through a munitions storage depot in northern Azerbaijan not far from Gilyazi village, reports the country's Defence Ministry.
Six people were injured according to local media. There was no immediate information about fatalities.
Authorities have evacuated residents of several nearby villages.
The accident has mobilised fire engines and ambulances from the surrounding area, and reinforcements are being sent from further away.
An investigation is underway as to the cause of the incident.