Harvey hits Houston with 'catastrophic flooding'
Comments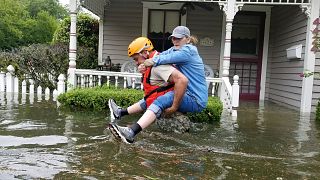 The rains from Tropical Storm Harvey continue to pummel Texas, rescue efforts are being stepped up as rising waters threaten thousands of homes.
At least five people have died in the Houston area, according to the National Weather Service, however, only two deaths have been confirmed. But officials warn that figure is likely to rise.
"We've been hit from all sides on this. Certainly, there was no was no way to predict the amount of rain and all the bayous — everyone of them (bayous) coming out like this. But I want to also assure the public that we are doing everything we can to be there for you. Please help us out. Be our partners," Houston police chief Art Acevedo said in a press conference.
Help is arriving from across the US with emergency workers being sent from Florida, Virginia and New York.
More than 2,000 people have already been taken to safety.
However, the National Weather Service warned that the 'catastrophic flooding' is expected to worsen and could become 'historic'.