At least one person killed as Hurricane Harvey moves inland
Comments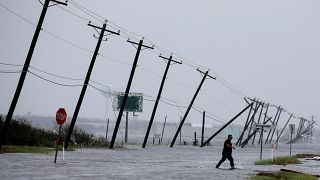 The most powerful storm to hit Texas in more than 50 years has killed at least one person and is now threatening catastrophic flooding in the region.
Harvey slammed into Texas late Friday ripping off roofs, snapping trees, and cutting power to nearly a quarter of a million people.
The town of Rockport took a direct hit from the storm and by Saturday had streets flooded and strewn with power lines and debris.
Texas Governor Greg Abbott announced he has increased the number of counties covered by emergency measures.
"I have issued a disaster declaration that originally included 30 counties, and this is a state disaster declaration," he said. "And we have now added 20 more counties. You all know the well-known phrase, and that is 'Turn around, don't drown.' Don't risk your life."
Few places in the world have as much energy infrastructure as the Gulf of Mexico. Dozens of oil and gas platforms have been evacuated and at least three refineries have closed prompting price hikes at the pumps.
Flooding and power cuts caused by a storm surge are considered the biggest risk.
---