North Korea fires several missiles into sea
Comments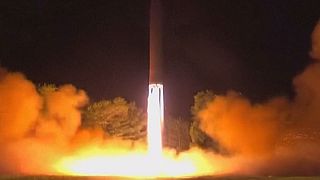 North Korea has fired several short-range missiles into the sea off its east coast according to the US military, as South Korea and the US conduct annual joint military drills.
Pacific Command said it had detected three short-range ballistic missiles, fired over a 20 minute period.
All of the missiles failed – one blowing up almost immediately after launch, while two others failed in flight, it added.
South Korean officials said the projectiles were launched from the North's eastern Kangwon province and flew in a northeasterly direction about 250 km into the sea.
North Korea has launched what may be another ballistic missile, South Korean military says https://t.co/l0GQ7vGke2

— Washington Post (@washingtonpost) August 25, 2017
The US military said the missiles did not pose a threat to the US mainland or to the Pacific territory of Guam, which North Korea had threatened earlier this month to surround "in a sea of fire".
North Korean missiles tests often come in response to South Korean military exercises involving the US.
South Korean and U.S. troops are currently taking part in joint military drills, that involve computer simulations of war to test preparedness – the north routinely describes these as preparation for invasion.