Hurricane Harvey downgraded to Tropical Storm
Comments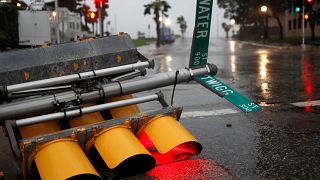 Hurricane Harvey is weakening to a Tropical Storm, and not before time after it wrought havoc on America's south-east coast.
When it hit Texas on Friday it was the worst storm in 50 years and its devastating winds have caused flooding and widespread damage. Now as it makes it way westwards, it is losing power rapidly.
However the National Weather Service is warning this is a "marathon and not a sprint", and that days of danger from flooding remain ahead.
Certainly from outer space Harvey looks full of menace and covers a huge chunk of mainland USA, its dense clouds packed with rain most of which is due to fall over the next 72 hours or so.