The US prepares for Hurricane Harvey
Comments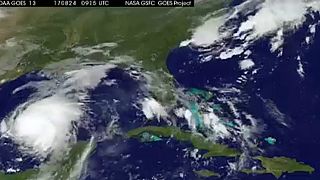 Residents in the Gulf of Mexico are filling hundreds of sandbags in preparation for possibly the worst hurricane in 12 years to hit the mainland United States since Hurricane Wilma struck Florida in 2005.
Hurricane Harvey is forecast to make land this weekend packing winds of up to 201 km per hour.
The threat has triggered evacuations along the south Texas coast home to 5.8 million people from Corpus Christi to Galveston.
"So we are recommending in the strongest terms that if you live in those low-lying areas that you get out and you begin to get out now. Go to a family member or friend, somewhere, just get to higher ground," said Joe McComb mayor of Corpus Christi.
The National Hurricane Center expects the storm to come ashore along the central Texas coast, an area that includes Corpus Christi and Houston,
home to some of the biggest refineries in the country.
More than 45 percent of the country's refining capacity is along the U. Gulf Coast, and nearly a fifth of the nation's crude oil is produced offshore in the region. Ports from Corpus
Christi to Texas City, Texas, were closed to incoming vessels.
Harvey has already disrupted US oil supplies in the region. Three refineries in Corpus Christi and one farther inland at Three Rivers were shutting down ahead of the storm
Supermarket shelves are also emptying fast as residents stock up on food, water and other essentials before Harvey strikes. The NHC expects the hurricane to move slowly over Texas and linger
over the state for days, dumping as much as 97 cms of rain on some areas.