Murder charges expected in submarine death
Comments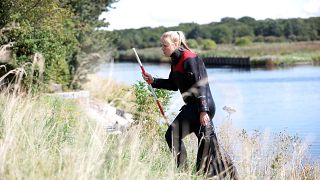 Authorities continue to search the waters around Copenhagen where a headless torso washed ashore on Monday.
Police have confirmed that the body belongs to journalist Kim Wall who went missing after boarding a submarine with engineer Peter Madsen.
Danish homicide police say they don't know the cause of Wall's death but told reporters "There was metal attached to the torso to make it sink."
Prosecutors had first charged Madsen with manslaughter but are now expected to up that charge to murder when Madsen appears in court in September.
In a change from his initial statement, Madsen has confirmed that Wall died aboard the submarine but he claims it was an accident and says he buried Wall at sea.
Wall was working on an article about Madsen and his submarine, the UC3 Nautilus, which he built himself.
Wall's head, arms and legs were sawn from her body and divers are still looking for the remaining body parts.