New pictures reveal earthquake damage on Ischia
Comments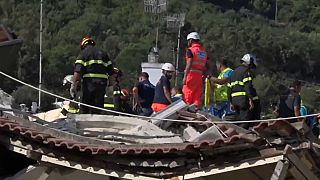 Dramatic new pictures show the extent of the damage on the Italian island of Ischia following a magnitude four earthquake.
Four people are confirmed dead with more than 40 injured.
Geologists say a quake of this level should not have such caused damage.
Francesco Peduto president of the National Council of Geologists said: "Illegal building is a big problem with houses built quickly, without geological technical checks, with poor quality cement."
The search and rescue is ongoing after a child was pulled from the rubble yesterday.
The island is trying to get back to everyday life: But more than 2000 people have been displaced and are waiting for the green light to return to their homes.
Thousands of tourists are said to be leaving the island despite being given reassurances.