Maduro to use Interpol to pursue Ortega
Comments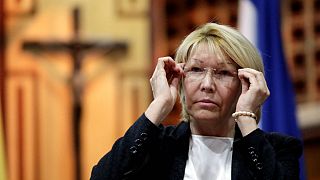 Veneuzela's president is to ask Interpol to issue an a red alert for the arrest of his former attorney general Luisa Ortega Diaz on corruption grounds.
Ortega and her lawmaker husband fled to Colombia last Friday after alleging "political persecution". They've now moved on to Brazil.
Both countries have echoed Ortega's condemnation of President Nicolas Maduro's handling of Venezuela's current crisis.
In his latest address Maduro lashed out at his neighbours criticising Colombian President Juan Manuel Santos for offering Ortega protection in the first place. He then turned his attention to Brazil describing the government of President Michel Temer as illegal .
Last month Maduro set up a new constitutional authority packed with his allies which then removed Ortega from office.
She has hit back claiming evidence implicating Maduro and his close allies in the international bribery scandal involving Brazilian construction from Odenbrecht.