Fukushima ice wall near completion
Comments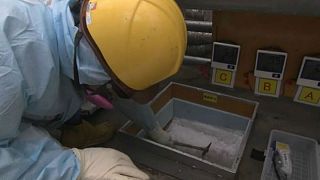 Final efforts are underway to complete an ice wall at Japan's Fukushima Daiichi nuclear power plant.
Workers started freezing the last 7-meter section on Tuesday.
The Tokyo Electric Power Company, or TEPCO, began freezing the 1.5km long wall in March 2016. The last section on the mountain side of the facility had been left unfrozen as officials said the move could cause a sudden drop in groundwater levels around the reactor buildings.
The coolant-filled wall is designed to prevent groundwater from seeping into the facility and coming into contact with contaminated water or nuclear fuel. But some experts question how effective it will be.
Fukushima ice wall's last section being frozen #nhk_world_newshttps://t.co/Uw1SwKklzo

—

NHK

WORLD

News (@NHKWORLD_News) August 22, 2017
Fukushima was the site of one of the world's worst nuclear accidents. An underwater earthquake in 2011 caused a tsunami that swamped cooling systems and triggered the meltdown of three nuclear reactors.
Full clean up of the are will take decades.