Watch: Spanish swimmer on his own for stand of solidarity with Barcelona attack victims
Comments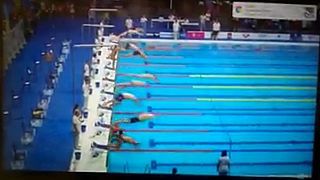 This is the moment a Spanish swimmer put solidarity before sport to honour the victims of the terror attacks in Catalonia.
Fernando Álvarez, competing at the World Masters Championships in Budapest, asked organisers to hold a minute's silence before his 200 metres breaststroke race.
But the International Swimming Federation (FINA), according to Álvarez, refused his request, forcing him to go it alone.
Footage shared on Facebook by Cadiz Swimming Club shows Álvarez standing motionless on starting block as his competitors got the race underway.
The swimmer, competing on Saturday (August 19) morning, waited for sixty seconds before diving in.
Álvarez, in his 70s, was so far behind, however, the official results posted online showed him having 'no time'.