Remembering Hollywood legend Jerry Lewis
Comments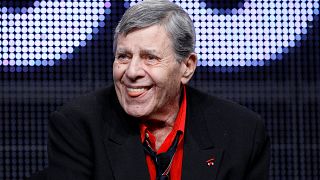 Hollywood legend Jerry lewis has died, aged 91. The comedian and all-round entertainer passed away of 'natural causes' at his home in Las Vegas, his family announced.
Born Joseph Levitch in Newark, in 1926, it was his meeting with Dean Martin in 1946 which launched his career. His goofy foil to Martin's suave persona proved to be comedy gold. At the height of their fame they could whip up the kind of hysteria usually reserved for musicians like the Beatles.
He went on to star in more than 45 films spanning five decades. His last film 'Max Rose' premiered in 2013, when he was 87 years old.
Lewis once summed up his career saying "I've had great success being a total idiot"