India train crash: dozens feared dead
Comments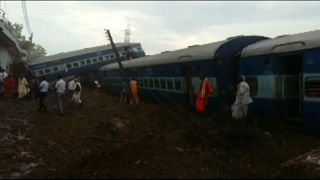 At least 23 people have been killed and dozens more hurt in a train crash in India's northern state of Uttar Pradesh.
Witnesses say the train derailed and several carriages smashed into nearby houses, sparking fears that scores of people could be trapped in the wreckage.
At least 23 killed, 64 injured in India's train crash pic.twitter.com/VfVWVj1Qwi

— نازک فرید

PTI

,Fsd (@Nazakfareed36) August 19, 2017
The accident is the fourth major crash this year and the third in Uttar Pradesh.
Train crashes are frequent in India, which has the world's fourth biggest rail network. Poor investment in past decades in the vast network and rising demand means
overcrowded trains are running on creaking infrastructure.