Finnish police say knifeman 'targeted women'
Comments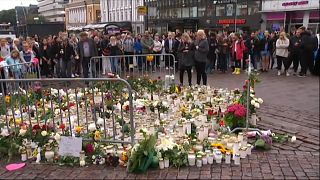 An 18-year-old Moroccan suspected of killing two people in a string of knife attacks in Turku on Friday is thought to have been targeting women, according to Finnish police.
The two killed were Finnish, while a British man, two Swedes and one Italian were among eight others hurt.
The suspect was arrested after being shot in the leg. Detectives say he's been part of the "asylum process." Four other Moroccan men have been arrested over possible links with the suspect.
"Due to information received during the night, the Turku stabbings are now being investigated as murders with terrorist intent," Crista Granroth from the National Bureau of Investigation
told a news conference.
"It seems that the suspect chose women as his targets, because the men who were wounded were injured when they tried to help, or prevent the attacks," Granroth said.
Both of those killed in the attack were women, as well as six of the eight wounded, she added.
Flags were at half mast on Saturday across Finland, whose Security Intelligence Service (SIS) raised the terrorism threat level in June to 'elevated' from 'low', saying it had become aware of terrorism-related plans.
Leaders of Turku's Iraqi and Syrian community condemned the attacks and said they would hold a rally of solidarity in the city's main square,but cancelled the plan due to security concerns.