Finnish police identify knife attacker
Comments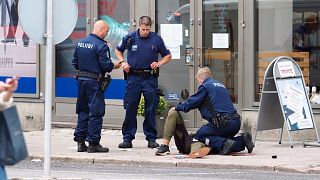 Police in Finland say they are "quite certain" they have identified the man who went on a stabbing rampage on Friday.
Two people were killed and eight were wounded during the attack in the south-western city of Turku.
Police shot and wounded the attacker before arresting him at the scene. They have since raided an apartment on the outskirts of the city and made several other arrests.
Finland's interior minister Paula Rissiko said authorities are looking for more information about the assailant. "The Security Intelligence Service is investigating if this man has a file in some register," she said at a press conference. "We also contacted the immigration office to see if they have a record of him there because we are talking about a foreign looking person."
The raided apartment is in the Varissuo suburb of Turku, which is home to a large immigrant population. But local authorities say it is too early to know whether the rampage was a terrorist attack.
On Friday evening, mourners gathered in the market square where the knife attack took place.
Three of those injured are in intensive care.