Nestle remove the walnuts from their whips.
Comments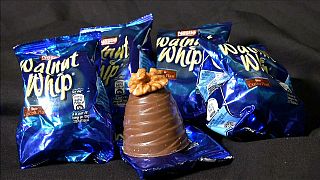 Nestle have risked the uproar of consumers after taking the walnut out of their whips.
The Swiss-based food maker has launched new versions of its popular chocolate to cater to customers who don't like nuts.
The move comes as walnut prices rise sharply – joining a list of increasing expensive raw materials, forcing manufacturers into a range of economy measures.
The traditional Walnut Whip, comprised of a whirl-shaped chocolate cone, filled with fondant and topped with a walnut, will still be available in the UK.
But its lacking in the new vanilla, caramel and mint flavoured versions.
The new range is likely to be met with some scepticism as British consumers have seen some of their most popular chocolate snacks scaled back in size in response to surging ingredient prices.
In November 2016, chocolate lovers erupted into social media fury the weight of a Toblerone bar was reduced to 150 grams from 170 grams by spacing out its triangular chocolate peaks more widely.
Other examples of 'shrinkflation' affecting the confectionary industry include Mars reducing the sizes of Maltesers, M&Ms and Minstrels packets by up to 15 percent.
The falling value of the pound and a poor crop last year in Chile, one of the world's major producers, pushed up UK walnut prices by around 20 percent this year.