Grace Mugabe seeks diplomatic immunity over alleged assault
Comments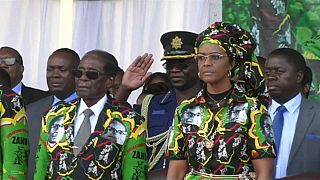 Zimbabwe's first lady, Grace Mugabe, has applied for diplomatic immunity in South Africa after being accused of assault.
She faces charges of attacking 20-year-old model Gabriella Engels after finding her in an upmarket Johannesburg hotel room with her two sons.
Mugabe, 52, failed to appear at a court hearing on Tuesday over charges that she beat the model with an electric extention cord. Amid confusion over the case and investigation, police say the abortive court hearing was meant to obtain a statement from Mugabe.
A picture posted on social media appears to show a deep cut to her forehead. Engels also claims to have more injuries at the back of her head.
Grace Mugabe Assaults Gabriella Engels, Model In Hotel With Her Two Sons https://t.co/26oeMVS4fbpic.twitter.com/uwaaQy65Ua

— aliiwo (@aliiwostreet9) August 14, 2017
Mugabe, widely seen as a potential successor to her 93-year-old husband Robert, was in South Africa for treatment to an ankle injury. She is not thought to have left the country despite reports she'd returned home.