Trump met by protests as he returns to New York
Comments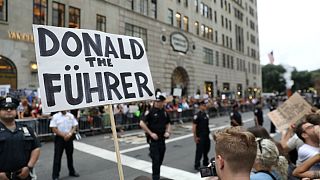 US President Donald Trump has returned to his home in New York City for the first time since taking office in January. But if he was expecting a warm welcome, it wasn't to be – instead, thousands of protestors lined the streets of Manhattan, chanting "New York hates you" and "Shame".
Trump's motorcade managed to avoid the crowd by approaching Trump Tower from another direction.
Chants of "New York hates you" outside Trump Tower pic.twitter.com/oIzC8QqIw7

— EJ Fox (@mrejfox) August 14, 2017
Earlier in the day, Trump forcefully condemned the white nationalists responsible for a violent rally over the weekend that left one person dead and dozens injured.
Trump's denunciation of the groups that make up some of his most passionate supporters followed days of criticism after his initial response blamed "many sides" for the violence.
Since the president's initial statement on the Charlottesville, Virginia, attack, three members of a White House business panel have resigned in protest of Trump's half-hearted reaction to the racially motivated violence. Trump has also faced vocal criticism from across the political spectrum.