India and Pakistan border guards celebrate independence with sweets
Comments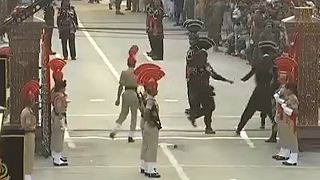 In spite of the well documented tensions between the two countries; guards from India and Pakistan offered sweets and goodwill at the Attari-Wagah Border to mark the Independence Day of the two nations.
The traditional exchange of gifts has played an important role in reducing ill feeling between the two countries.
India's independence from Britain in 1947 resulted in the partition of the subcontinent into two separate nations.
Majority-Hindu India and Muslim Pakistan have fought three wars since then, two of them over Kashmir,
Prime Minister Narendra Modi urged India on Tuesday to reject religious violence, after a series of attacks against minorities.
In a speech at Delhi's Red Fort Modi listed his government's achievements, including the fight against corruption.