White House says Trump condemns white supremacists
Comments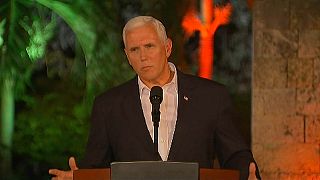 As mourners gathered at the scene of a fatal car attack in Charlottesville, Virginia, the White House said President Trump's remarks condemning the violence were meant to include the Ku Klux Klan and neo-Nazi groups. Trump is under fire for failing to denounce the white supremacists thought to be responsible for the attack.
During an official visit to Colombia,​ ​Vice President Mike Pence clarified the administration's position.
"We have no tolerance for hate and violence from white supremacists, neo-Nazis or the KKK," Pence said. "These dangerous fringe groups have no place in American public life and in the American debate and we condemn them in the strongest possible terms."
Thirty-two-year-old Heather Heyer was killed and 19 people were injured on Saturday when a man plowed a car into a crowd of people protesting a white nationalist rally. The driver, 20-year-old James Fields, is due to appear in court on murder and other charges stemming from the fatal car crash.
Jason Kessler, who organized the controversial "Unite the Right" rally was chased away by protestors in Charlottesville but later said supporters of the event would not back down.
The Federal Bureau of Investigations has opened a​ ​civil rights investigation into the violence. ​