Scotland's former leader shows off his comic timing at Edinburgh
Comments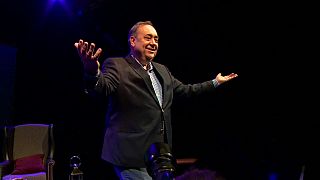 Scotland's former first minister Alex Salmond is back, just not as a political heavyweight. Instead he is looking to be a big beast on Edinburgh's comedy fringe, taking on a two-week stint of standup and conversations
with special guests.
Opening night saw Salmond spar with Britain's Brexit Minister David Davies. Would the showman be inviting any other politicians in his phone book?
"I didn't actually ask The Donald, because I was tempted to ask him, you know, put a tweet out, and get the tweet back, It would have been great publicity, we had enough publicity anyway…"
"Alex Salmond unleashed" will face stiff comedy copmpetiton at the Edinburgh Festival, but judging by the audience reaction his act is off to a flying start.