Pakistan celebrates 70 years of independence
Comments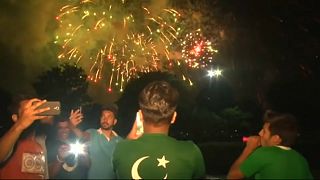 Pakistan is celebrating 70 years of independence from its former colonial ruler Britain.
The day began with a 21-gun salute in the federal capital, Islamabad, a ceremony repeated in all provincial capitals.
In Karachi, a change of Guard also took place at the mausoleum of Pakistan's founder Mohammed Ali Jinnah, popularly known as "Quaid-e-Azam" (Supreme Leader). Representatives of Pakistan's army, air force and navy also laid wreaths at the grave and performed a salute.
President Mamnoon Hussain used the occasion to call on the country to come together and ignore their differences.
As August 14th is a national holiday, millions of Pakistanis took the streets to celebrate with fireworks, flag waving and festivities.
RT AamirLiaquat: Thank You #UAE HHShkMohd for the Independence day celebration of #Pakistan at #BurjKhalifa#Pakis… pic.twitter.com/0YBoZ3mLST

— Sakina Fatima (@SakinaFatima123) August 14, 2017
A very happy Independence Day to #Pakistan and to all those marking the occasion in London and around the world. pic.twitter.com/6qP9uozcWe

— Sadiq Khan (@SadiqKhan) August 14, 2017
At the stroke of midnight on August 14, 1947, the British partitioned British Indian Empire into the two sovereign states of India and Pakistan. India celebrates its independence on August 15.
Millions of people's lives were disrupted in 1947, after departing British colonial administrators ordered the creation of two countries – one mostly Muslim and one majority Hindu.
A mass migration followed, marred by violence and bloodshed, as about 15 million Muslims, Hindus and Sikhs, fearing discrimination, swapped countries in a political upheaval that cost more than a million lives.
India and Pakistan have fought three wars since 1947, and relations remain tense, particularly when it comes to the disputed Himalayan region of Kashmir, which both claim in full.