Maduro orders military exercises in Venezuela in response to Trump comments
Comments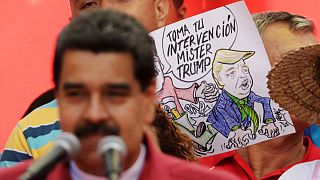 Venezuelan president Nicolas Maduro has held an "anti-imperialist" march in Caracas, seeking to capitalise on US leader Donald Trump's threat of possible military intervention in the Latin American country.
Thousands of government supporters gathered for the rally in the Venezuelan capital, where Maduro implored the crowds defend the country against what he called "the Yankee imperialist boot".
Thousands of Venezuelans mobilised in #Caracas today in an anti-imperialist march to counter Trump's threats of using military force. pic.twitter.com/5cUzmAcEO9

— Paul Antonopoulos (@oulosP) August 14, 2017
The flare in tensions between the two countries has somewhat blighted US Vice President Mike Pence's tour of the region, which began on Sunday in Colombia, where he spent time with people who had fled the upheaval in Venezuela.
On Friday, Trump said his administration was looking at all options on Venezuela "including a possible military option".
Pence said: "President Trump has made it very clear that we will not stand by while Venezuela collapses into dictatorship. We will not stand by as Venezuela crumbles."
He added: "It's important to note, as the President said, that a failed state in Venezuela threatens the security and prosperity of our entire hemisphere and the people of the United States of America."
Pence met with Colombian President Juan Manuel Santos, who, along with other Latin American leaders and the Venezuelan opposition, condemned Trump's threats.
In retaliation against the White House's comments on the ongoing political crisis in Venezuela, Maduro ordered the Venezuelan armed forces to hold exercises.
The "civic-military operations" are due to take place on 26-27 August.
Earlier in the day, Venezuela's Defence Minister Vladimir Padrino had appeared on television, flanked by battle-ready soldiers at an army base.
"This is a time for reflection, you are either a Venezuelan patriot, or pro-Yankee," he said.