Trump threatens Venezuela with "military option" in response to the country's growing unrest
Comments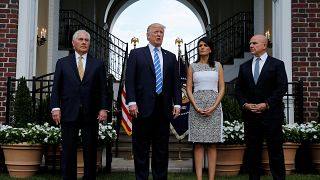 President Donald Trump says he's not going to rule out any military intervention in Venezuela which has come under increased pressure for its human rights abuses.
More than 120 people have been killed in the Latin American country and thousands arrested in over four months of unrest.
"The people are suffering and they are dying. We have many options for Venezuela including a possible military option if necessary," Trump told reporters at his golf club in New Jersey, alongside Secretary of State Rex Tillerson and US Ambassador to the UN Nikki Haley.

Trump says he's considering possible military action against Venezuela in response to Maduro's power grab. https://t.co/nNGs4NLpv9

— The Associated Press (@AP) August 11, 2017
Venezuelan authorities have long said US officials were planning an invasion. A former military general told Reuters earlier this year that some anti-aircraft missiles had been placed along the country's coast for precisely that eventuality.
In Washington, the Pentagon said the US military was ready to support efforts to protect US citizens and America's national interests, but that insinuations by Caracas of a planned US invasion were "baseless."
Trump's suggestion of possible military action came in a week when he has repeatedly threatened a military response if North Korea threatens the United States or its allies.
Asked if US forces would lead an operation in Venezuela, Trump declined to provide details. "We don't talk about it but a military operation – a military option – is certainly something that we could pursue," he said.

Twitter users in South America – especially Venezuela – going nuts right now as word gets out about what Trump said about Venezuela.

— Gabriel Elizondo (@elizondogabriel) August 11, 2017
The government in Caracas did not immediately respond to a request for comment on Trump's threat.