Danish entrepreneur charged with murder after submarine is wrecked
Comments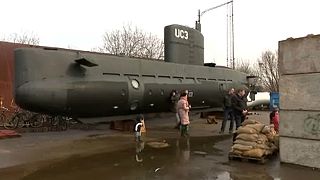 Ships and aircraft have been circling the site off the Danish coast where the UC3 Nautilus submarine sank on Friday August 11 to try to salvage the vessel.
Entrepreneur Peter Madsen, from Denmark, made headlines when he successfully financed the building of the submarine through crowdfunding.
He designed and built the UC3 Nautilus along with fellow submarine enthusiasts in 2008.
After being rescued, Madsen was arrested on suspicion of murder after a Swedish journalist who joined him for the voyage was reported missing.
Madsen, 46, denies killing the missing woman and says he dropped her off on Refshaleøen island about three and a half hours into their trip on Thursday night.
The only people on board were Madsen and the journalist, whose partner alerted authorities to her absence on Thursday evening.
The police in Sweden said they had tried without success to contact the woman by phone. Her family had not heard from her.
Madsen, an entrepreneur known as an artist, submarine builder and aerospace engineer, is appearing before a judge for preliminary questioning.
Police said the submarine was on the seabed in Koge Bay, south of Copenhagen, at a depth of seven metres. Divers had not been able to enter the vessel.
Madsen said "a minor problem with a ballast tank … turned into a major issue" that caused the sinking of the vessel.
The ballast tank is a compartment that holds water to provide stability for a vessel.
The 18-metre Nautilus is one of three subs built by Madsen. It can carry eight people and is considered to be the largest privately built submarine of its kind.