Watch: Car plunges seven floors of parking garage
Comments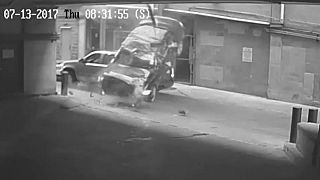 This is the moment a car plunged seven storeys of city centre parking garage in Austin, Texas.
Police said a woman drove the car through 'retention wires' on the seventh floor, before it then hit a building opposite and plunged down.
The woman was treated in hospital, emergency services said, but it is unclear the extent of her injuries.
The video shows her car hit another vehicle as it was leaving the garage. The driver of that sports utility vehicle (SUV) wasn't injured.
Last September, a SUV plunged from the ninth floor of the same parking garage.