Contaminated eggs in 17 countries
Comments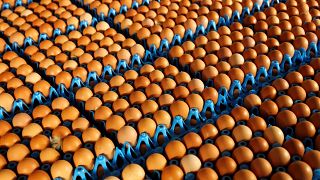 Fifteen European countries plus Switzerland and Hong Kong have reportedly received products containing contaminated eggs. The European Commission's food safety chief has called countries to stop "blaming and shaming" each other. Belgian and Dutch authorities are in the firing line over how long they have known about the contamination.
The Commission has said it will hold a special meeting to look into any failings,
"We must reiterate that the (European) system, as it works, is one of the most advanced in the world. But regarding this kind of event, of course, there are some lessons to be learned, that's why we will convene a meeting on September 26".
EU Commissioner calls for eggs summit after contamination scare https://t.co/MYAHEyN6yUpic.twitter.com/HI1EKbOmQT

— Reuters Top News (@Reuters) August 11, 2017
Scientists have scrambled to test over 1000 products so far, finding low levels of fipronil in numerous products from meat to cakes. But consumers are reassured that in these amounts, consumption isn't thought to be dangerous.