Beijing promotes tourism in Helsinki
Comments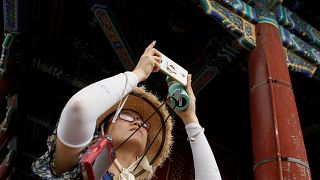 To boost tourism between the EU and China, a promotional event called Charming Beijing was held in Helsinki.
Song Yu, Director-General of Beijing Municipal Commission of Tourism Development told Euronews more about their goals: "Most of the people in Beijing would like to visit a lot of Western European countries. And it always has been our focus that Nordic countries would be the next tourism destination. Traditionally, Chinese people have visited Western European countries, but nowadays the Nordic countries have more and more potential."
The Director-General said 2018 is the EU-China year of tourism and Beijing would like to provide a more "European experience" in the Chinese capital.
Yu added: "The government has done a lot of things in order to improve the air quality. For example, for the gas emission of automobiles, we have already reached the European standards. We have also turned our coal burning into using more natural gases. On the one hand it has increased our costs but on the other hand, this brings some very positive effects and impacts on our environment."
About the new developments that Beijing can offer to the European tourists, Yu told Euronews: "We have a lot of favourable policies. For example, now we have this 144 hours of stay without needing a visa application in Beijing. Before we used to have this 72 hours and it was so successful that now the government has allowed Beijing to issue 144 hrs. This provides much convenient service for the tourist. In addition to this, we also have tax refunds at the airport, for the foreigners as well. We do not have the EU standards yet but we are close to that and we are working on it."