Greenland's rare wildfire is 'biggest-ever'
Comments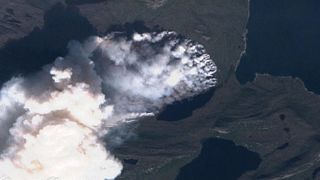 New images have emerged of a rare wildfire in Greenland – the biggest blaze ever recorded on the huge island.
Fires are unusual there because 80 percent of the surface is covered by ice.
The fire is burning in peat near Greenland's second-largest town, Sisimuit, on the island's western flank.
Experts believe the peat may have dried out as temperatures have risen.
According to NASA, the fire broke out on July 31.
Professor Stef Lhermitte, of Delft University in the Netherlands, who has measured the pixels on satellite images, said it was the largest blaze ever recorded and he was also quoted as saying that more fires have been recorded in 2017 than any other year since data collection began in 2000.
Professor Jessica McCarty from Miami University told the BBC damaged permafrost in the region is likely to have contributed to this outbreak.
But she said it was too early to make a definite link with climate change.
It comes as wildfires in Europe have nearly trebled so far this year – a trend experts say is down to global warming.