UN condemns Venezuela's "widspread and systematic" violence against protesters
Comments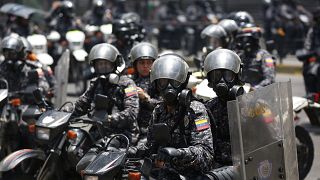 The The United Nations has condemned what it called the "widespread and systematic use of excessive force" by the Venezuelan government against protestors in the run up to the controversial Constituent Assembly elections.
It also said that security forces and pro-government groups are responsible for the deaths of at least 73 demonstrateors and they were guilty of a number of human rights violations, including "torture", "violent house raids" and the arbitrary detention of 5,000 people since April 1.
The findings are based on interviews.
UN Human Rights Office Spokesperson Ravina Shamdasani said: "The [UN High Commissioner for Human Rights Zeid Ra'ad Al Hussein] says that these violations have occurred amid a breakdown in the rule of law in Venezuela with constant attacks by the government against the national assembly and the attorney general's office.
"The High Commissioner urges the authorities to immediately end the use of excessive force against demonstrators, to halt arbitrary detentions and to release all those who have been arbitrarily detained.
Months of bloodshed and destruction preceded last month's controversial Constituent Assembly vote as opposition supporters took to the streets to rally against President Nicolas Maduro.