Storms and floods follow heatwave in parts of Europe and Russia
Comments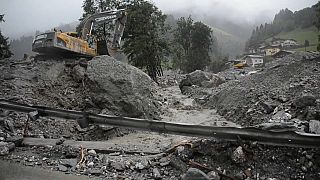 After the heatwave in parts of Europe came the storms… and casualties.
Four people were reported dead in northern Italy over the weekend as the weather turned violent.
First a mudslide near the ski resort of Cortina d'Ampezzo swept a woman to her death on Saturday. On Sunday three men were killed, two of them when strong winds brought down trees, the other by lightning.
Clean-up operations have been underway in Austria after heavy rain. The Grossarital Valley in the state of Salzburg was once again reported to be accessible after being cut off. Styria and Tyrol were also badly affected.
Far to the east – in Russia's far east – heavy rain brought chaos.
A local state of emergency was declared as the town of Ussuriysk and six villages became flooded. Some people were given temporary accommodation after being moved from their homes.
But despite some stormy weather, across much of southern, central and eastern Europe the heatwave is expected to continue.
Three dead as storms strike across northern Italy https://t.co/SkJb79htPGpic.twitter.com/tuLJdMCSaS

— The Local Italy (@TheLocalItaly) August 7, 2017
Extreme weather has hit #Germany's summer. But how are cities bracing for the unpredictability of #ClimateChange? https://t.co/DrD11ZrPvKpic.twitter.com/8gB5s3kJQ4

— DW | Politics (@dw_politics) August 7, 2017
Dangerous situation in Ussuriysk #Russia today. 249 mm of rain fell last night. State of emergency declared. Photo via primamedia.ru pic.twitter.com/gkw2LoPUDJ

— Kirill Bakanov (@WeatherSarov) August 7, 2017