Failed military uprising in Venezuela
Comments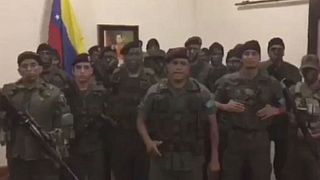 Venezuelan authorities have suppressed a military rebellion near the central city of Valencia, a ruling official said on Sunday, days after President Nicolas Maduro formed a legislative super-body internationally condemned as a power grab.
This came shortly after the release of a video showing a group of men in military uniform announcing the rebellion and calling for a broad uprising against the President.
Government allies were quick to denounce the attack on social media as a right-wing plot aimed at bringing down the "Bolivarian revolution".
In the video, a man thought to be a former National Guard captain, said: "This is not a coup d'etat, this is a civic and military action to re-establish constitutional order. But more than that, it is to save the country from total destruction."
One witness in the area of a military base reported hearing gunshots before dawn. Officials said the rebels, whom they described as "terrorists," were trying to steal weapons and that seven people were detained after the attack.