Top Ten: there's only one Neymar
Comments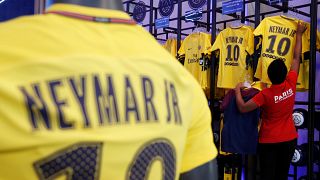 As one of Brazil's hottest prospects pledges to lift trophies with PSG following an astonishing world-record transfer, we take a look at 10 things which make Neymar… Neymar.
1.Talent
Let's start with the obvious. Neymar's 220 million euro price-tag might seem unreasonable to many but who can deny the 25-year-old's skills on a football pitch. Gifted with a superb touch and an impressive repertoire of tricks, he won the Champions League once, La Liga twice, and the King's Cup three times. As the focal point of the Brazil national team, who will be aiming for a record sixth World Cup title in Russia next year, Neymar's popularity soared after he captained his country to their first Olympic gold medal in Rio last year.
2. Social media
While football has changed radically since its inception, perhaps the biggest adjustment players, clubs and fans have had to make is in terms of image. There's no denying that social media has had a monumental impact on the sport and with well over 100 million followers (Instagram + Twitter), Neymar might represent everything the French club needs.
3. Marketing power
Neymar has lucrative endorsement deals with Gillette, Panasonic, Beats by Dre and also has his own trainer collaboration with Nike and basketball great Michael Jordan, the 'Air Jordan v Neymar'. This year he was placed third on the Forbes magazine's list of highest-paid footballers behind Cristiano Ronaldo and Lionel Messi.
4. The high life
Neymar has expensive tastes and his list of extravagent purchases includes a 6.7 million euro yacht, a private jet and a vast car collection. He was recently spotted driving a Porsche Panamera Turbo which costs approximately 420 000 euros. The Brazilian is also known for buying expensive watches, earrings and trainers. After finishing an interview in a famous shoe shop in Los Angeles, Neymar racked up an unprecedented 15 683 euro bill, adding another record to his name.
5. Hair
Famous for dying his naturally dark hair bleach blonde, sporting an outrageous mohawk and bringing the mullet back from its tragic death in the 80s, Neymar could one day surpass the leading goalscorer when it comes to hairstyles… Cristiano Ronaldo. According to reports, nobody's hairstyle was searched for more times on the internet in 2016 than the Real Madrid forward. What is life without goals and ambitions?
6. Tattoos
It's no secret that Neymar loves his tattoos. For him they have a huge value and each design means something to him. The 25-year-old recently stole the headlines by revealing the tattoo of his mother's face while celebrating a 4-1 win against Las Palmas.
7.Neymar Sr.
Neymar's father and agent is one half of their company NN Consultoria and the guiding light behind the money-spinning offshoots that have helped the Brazil striker become one of the world's highest grossing athletes. Their commercial and advertising ventures have proven so lucrative that Neymar is sometimes referred to as Neymarketing.
8.Tax evasion
Neymar has recently been cleared of any criminal charges in a long-running tax evasion case in Brazil. The country's federal tax office had charged him in 2015 with evading 16.79 million euros in taxes due on income earned from the Santos and Barcelona clubs and sponsors between 2011 and 2014.
9. Girlfriend
Neymar's record transfer is getting a lot of attention and so is his on-off relationship with Brazilian model and actress Bruna Marquezine. The pair – dubbed the new Beckhams – have reportedly been dating for more than three years. Will the 21-year-old be heading to the French capital with him? If so, I predict a 'never been done before' instagram post of her standing next to the Eiffel Tower in the coming days.
10. A bright future?
If Neymar avoids any serious injuries along the way, he has a good chance of joining the legends of the sport by becoming the best in the world. Real Madrid's Cristiano Ronaldo and FC Barcelona's Lionel Messi have dominated the Ballon d'Or since 2009 but with both superstars now in their thirties, the Brazil captain could be next in line to lift the prestigious accolade.