Provence lavender under threat from climate change
Comments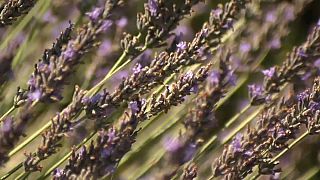 It has become a symbol of Provence in southern France, but there is a warning that it's under threat from climate change.
Lavender is in decline because of drought-like conditions and disease-carrying insects, causing a major headache for scientists and farmers attempting to find solutions.
Eric Chaisse, an expert at the Provence-based agricultural research institute CRIEPPAM, said: "Lavender in Provence is effectively endangered, because in recent years the plant has been subjected to the effects of climate change that brought a lot less rain in the spring and mostly in the autumn.
"This affects the lifespan of lavender. There's also a small cicada, a micro-bacteria transmitting leaf hopper, and in very dry weather there are lots of them."
And a lot is at stake. As well as attracting holidaymakers, lavender oil is highly sought after for perfume and cosmetics.
Eric Chaisse said: "Instead of having very long plant ears with a number of large flowers, we have smaller ones, underdeveloped and either missing or weakened. So we have fewer parts with essential oil."
Solutions being looked at include better water distribution and slowing down evaporation from the soil, but also spraying the plants with a protective mix of clay and water and developing varieties more resistant to dry conditions.