Man pays €8,700 for a glass of whisky
Comments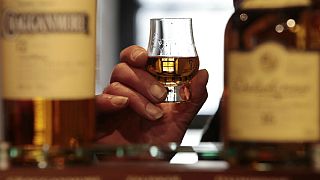 A visitor to a Swiss ski resort has lavished 8,700 euros on a single glass of whisky.
The man, from China, paid 9,999 Swiss Francs to taste a single malt at Saint Moritz, 139km south-east of Zurich.
He tasted a Macallan from 1878, which was conserved in a barrel for 27 years before being bottled in 1905.
Waldhaus Hotel, which has the largest selection of whiskies in the world, told Swiss media the bottle had been opened especially for the occasion.
A bottle is estimated to cost around 50,000 Swiss Francs (43,670 euros), but, once opened, it loses its value. This is because of the oxygenation of the whisky and the subsequent perceived loss of quality.