Trump 'weighed in' on son's Russia statement - White House
Comments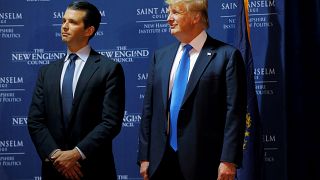 Donald Trump and his son are under scrutiny again over a meeting held with a Russian lawyer during the 2016 presidential campaign.
The White House confirmed on Tuesday (August 3) that the president played a role in drafting a statement downplaying the purpose of the meeting, which has become the focus of federal investigators looking at possible collusion between Moscow and the Trump team to win the election.
The comments were made after the Washington Post reported that Trump "personally dictated" a statement in which Trump Jr. said he and the Russian lawyer had primarily discussed a program about the adoption of Russian children.
Trump "certainly didn't dictate (the statement), but … he weighed in, offered a suggestion like any father would do," White House Press Secretary Sarah Huckabee Sanders told reporters during a briefing.
Trump's lawyer had repeatedly said the president had not been involved in the drafting of the statement.
"The statement that was issued was true and there were no inaccuracies in the statement," Sanders told reporters.
The statement, issued to the New York Times as it prepared an article on the meeting, emphasised that the subject was "not a campaign issue at the time."
But over the following days, different accounts of the meeting emerged, and emails released by Donald Trump Jr. showed he had in fact been lured to it by the promise of damaging information about Trump's rival for the presidency, Democrat Hillary Clinton.
The June 2016 meeting with Russian attorney Natalia Veselnitskaya – who has denied having ties to the Kremlin or holding any such information in the first place – was also attended by Trump's son-in-law Jared Kushner and former campaign manager Paul Manafort.
The conflicting comments about the meeting could spell legal trouble for Trump and fuel allegations of a cover-up, just as Special Counsel Robert Mueller, on the Russia probe, looks into potential obstruction of justice by the president.