'I didn't have what they wanted': Russian lawyer on meeting with Trump Jr
Comments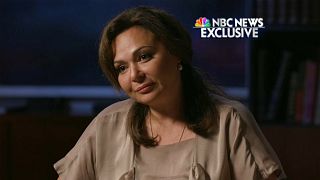 The Russian lawyer who met with Donald Trump Jr. during the presidential campaign has denied she had any connection to the Kremlin and insists she wanted to discuss sanctions between Russia and the U.S., not to hand over information about Hillary Clinton.
"I never had any damaging or sensitive information about Hillary Clinton. It was never my intention to have that," Natalia Veselnitskaya told NBC News in an interview.
Her account appeared to contradict that of Trump Jr., who said this week he agreed to the meeting in June 2016 after he was promised intelligence about his father's Democratic rival in the race to the White House.
"I didn't know who would be at that meeting. All I knew – all I had been told – was that Mr. Donald Trump Jr. was willing to meet with me," Veselnitskaya said in the interview.
EXCLUSIVE: Russian lawyer who met with Trump Jr. tells KeirSimmons</a>: "I did not have Clinton info they wanted" <a href="https://t.co/6r1SGlFy01">https://t.co/6r1SGlFy01</a></p>— NBC News (NBCNews) July 11, 2017
Do you have connections to the Russian government?
"Nyet," Natalia Veselnitskaya, Russian lawyer who met with Don Jr., tells NBC. https://t.co/LGpSOuZ1GM

— Jennifer Jacobs (@JenniferJJacobs) July 11, 2017
"I've tried to bring back my memories of the meeting, and compare them to the pictures I've seen in newspapers. And I could recognize the young gentleman who was only present in the meeting for maybe the first seven or 10 minutes, and then he stood up and left the room. It was apparently Mr. Jared Kushner. He never came back. And the other individual in the meeting, he was constantly looking at his phone. He was reading something. He never took any active part in the conversation. That was Mr. Manafort," she said.
Asked why Trump Jr., Manafort and Kushner seemed to all have the impression she had information about the Democratic National Committee, she replied: "It's quite possible that maybe they were longing for this kind of information. And that they wanted it so badly that they could only hear what they wanted. I was interested in something else."
"I love it"
Trump Jr. has confirmed the meeting occurred, and even released an email chain where a publicist who helped arrange the encounter suggested it could provide the Trump campaign with precious Russian intelligence about Clinton.
"The Crown prosecutor of Russia … offered to provide the Trump campaign with some official documents and information that would incriminate Hillary and her dealings with Russia and would be very useful to your father," said the June 3, 2016, email to Donald Trump Jr. from publicist Rob Goldstone.
"This is obviously very high level and sensitive information but is part of Russia and its government's support for Mr. Trump," reads one of the emails he posted on Twitter.
"If it's what you say I love it," Trump Jr. replied in part.
The email chain could provide ammunition for federal investigators probing whether the Trump campaign colluded with Russia to win the 2016 presidential election.
Here's my statement and the full email chain pic.twitter.com/x050r5n5LQ

— Donald Trump Jr. (@DonaldJTrumpJr) July 11, 2017
Here is page 4 (which did not post due to space constraints). pic.twitter.com/z1Xi4nr2gq

— Donald Trump Jr. (@DonaldJTrumpJr) July 11, 2017