'Little Pompeii' uncovered by archaeologists south of Lyon
Comments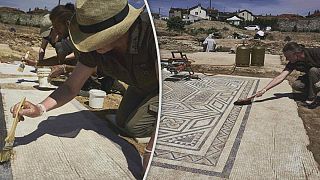 Luxurious homes, a vast market place, this archaeological discovery has been described as an 'exceptional find. '
On the outskirts of Vienne, south of Lyon, an entire ancient Roman neighbourhood has been unearthed on land awaiting construction of housing complex.
Since April, about twenty archaeologists have been digging up this 7,000 m2 site which contains homes dating to the 1st century AD, and is thought to have been occupied for around 300 years.
"This site is called the little viennoise because it was destroyed by 2 successive fires," says Benjamin Clément, the scientific leader of the excavations, "the first at the very beginning of the 2nd century AD, the second at the middle of the 3rd century. These two fires fossilised the city and gave us 2 snapshots of what it was like, a bit like a Pompeii and Herculaneum.
It allows us to search the buildings with the architecture completely preserved and to find objects abandoned inside by the inhabitants who were forced to flee the fires."
Among the structures to have partly survived is a two-storey house of more than 2000m2. Here archaeologists found an exquisite mosaic depicting an erotic scene between the goddess Thalia, kidnapped by the god Pan.
The owner of the house was undoubtedly a rich Turkish merchant, or Greek.
The mosaics are being carefully removed and taken away to be restored, with a view to being exhibited in Vienne's museum of Gallo-Roman civilisation.
The Roman empire conquered the entire Mediterranean basin between 27 BC and 476 AD.
Vienne, famous for its Roman theatre and temple, was the northernmost town of an area administered by Italy.
"Here we have found objects normally found in Italy and Greece and also related to the oriental world," said Benjamin Clément. "And that is exceptional. To find pieces more oriented towards the Mediterranean world than the Celtic world found more often in the region of Gaul. "
In the coming months Clement's team will dig down to older parts of the site and explore an area containing workshops.
The excavations will last until 15 December, with the most interesting remains taken away to be analysed.