Watch: Baggage handlers in Italy 'caught stealing' from travellers' luggage
Comments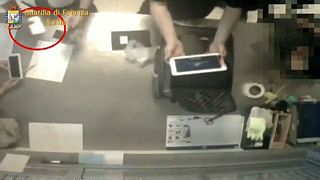 Watch out if you're passing through Rome's Fiumicino Airport this summer.
Baggage handlers there have been caught on camera stealing smartphone, tablets and money from lost luggage, according to authorities.
They were alerted after 'numerous passengers' found valuables missing when they collected their suitcases.
That prompted surveillance cameras to be installed and they captured valuables being taken from luggage declared lost.
The two suspects were working for a private luggage handling company that was operating during the summer peak, according to Guardia di Finanza, a police force primarily involved with fighting financial crime and smuggling.
The force said an investigation is now underway to establish whether anyone else was involved in the thefts.
Fiumicino Airport was used by 41.6 million passengers in 2016 and employs around 40,000 staff, according to Guardia di Finanza.