Passengers rescued from Cologne cable car after gondola crashes
Comments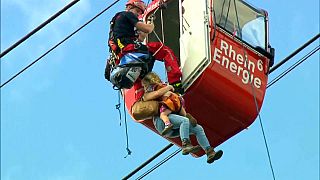 A rescue operation was underway in the German city of Cologne on Sunday after dozens of people became trapped when the Rhine cable car came to a grinding halt.
Children were among those who had to spend almost five hours suspended fifty metres above the Rhine after one of the ride's gondolas became hooked on a supporting beam and the entire cableway abruptly stopped.
Cologne cable car accident: Up to 100 trapped in gondola https://t.co/4FFLh4Dcghpic.twitter.com/HjOHCWkgWT

— Zesty Europe News (@zesty_europe) July 31, 2017
Almost one hundred rescue workers were involved in the operation, which used fireboats, steering masts and turntables to save 76 people from the ride.
No serious injuries were reported, although two passengers suffered minor cuts and bruises during the rescue operation.