Paris set for 2024 Olympics as Los Angeles opts for 2028
Comments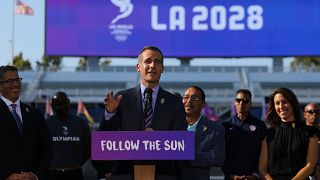 Los Angeles has formally bid to host the Summer Olympics and Paralympics in 2028, leaving the field clear for Paris to claim what is seen as the top prize: the 2024 Games.
Both cities had been competing for the event in seven years' time after several other contenders withdrew.
It's thought money and time played a large part in LA's decision, which was confirmed by the International Olympic Committee (IOC). The city will get more of both by opting for the later date: 1.8 billion dollars (1.5 billion euros) from the IOC compared to 1.5 billion dollars (1.2 billion euros) for the 2024 Games. The rest of the anticipated five billion dollar budget will be sought from local sponsorships and ticket sales, with the US federal government funding "national security costs".
The Southern Californian city, which last hosted the Olympics in 1984, has more time to prepare and upgrade its transport system.
"On my first day as mayor, I wrote, as my first act, a letter to the USA Olympic Committee to saying that we wanted to bring the Olympics back. That day we have begun a remarkable journey. In sports term there is no other metaphor: it was a marathon," said Los Angeles Mayor Eric Garcetti.
The straightforward race for the 2024 Games became more complex when the IOC decided to combine the announcement with that of the winner for the event four years later.
"The IOC welcomes this decision of the Los Angeles and Paralympic Candidature Committee," IOC President Thomas Bach said in a statement.
IOC to contribute USD 1.8 billion to the local Organising Committee https://t.co/QFX429kwP4 (2/2)

—

IOC

MEDIA

(@iocmedia) July 31, 2017
The move by the Americans leaves the French capital as the only runner left in the race for 2024.
The IOC and both cities still have to sign a formal accord. The mayor of Paris Anne Hidalgo tweeted that discussions would continue throughout August and that she was optimistic September's vote in Peru would be a "historic moment".
Heureuse que mon ami MayorOfLA</a> fasse un nouveau pas important pour un accord qui fera 3 gagnants : Paris, Los Angeles et le CIO. <a href="https://twitter.com/hashtag/Paris2024?src=hash">#Paris2024</a></p>— Anne Hidalgo (Anne_Hidalgo) July 31, 2017
Both Paris and LA are on course to join London as the only cities ever to host the Games – summer or winter – three times.
The stage is set for the French capital to host the summer event on the centenary of the last time it did so. The 1924 Paris Olympic Games were famously depicted in the 1981 Oscar-winning film "Chariots of Fire".
Paris has been awarded the 2024 Olympic Games, which will be 100 years after the city last hosted the Olympics. https://t.co/YAInA10q9npic.twitter.com/ZbQSVzLHd2

— Britannica (@Britannica) August 1, 2017