'Man Pods' make shopping fun for boyfriends
Comments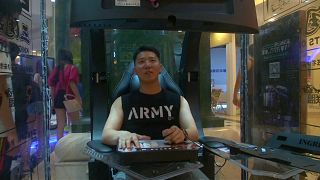 A shopping expedition?
It is a suggestion that strikes fear into the heart of many a husband or boyfriend.
Now though a mall in China has come to the rescue – providing 'man pods' where once bored boys can wile away the hours in front of a video screen while their other halves shop until they drop.
The hi-tech refuges at the Global Harbor shopping mall in Shanghai have proved a big hit with couples, transforming their shopping experience.
Since they were first launched in June, more than 1,000 men have used the facilities.
This mall offers 'man pods' for men who can't stand shoppinghttps://t.co/ixX2K0i9XK

— TIME (@TIME) 29 juillet 2017
Zhao Wei, an operator of one of the pods, explained that the booths help avoid arguments by giving the man something to do while his partner can go shopping at ease.
The only surprise is that no-one thought of it before!
"I think this idea is pretty good because nowadays many boys like me are not willing to go shopping with their girlfriends," said Yao Lei, a 26-year-old man using one of the cabins.
With the idea bound to spread, men worldwide may soon be the first to suggest a day spent at the shops!