Dog shows maternal instincts by breastfeeding kitten
Comments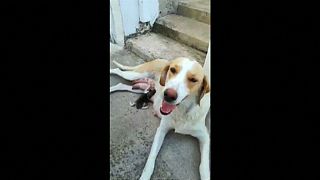 A dog in Greece has shown her maternal instincts by breastfeeding an abandoned kitten.
Amateur footage has emerged showing the dog suckling the newborn kitten.
The owner of the video, Georgia Spathoula, said she saved the kitten from a rubbish bin where it had been thrown away, wrapped in a bag.
She and her husband took it to a dog in the neighbourhood who had recently given birth, to see if she would accept it.