Mike Pence begins Baltics visit
Comments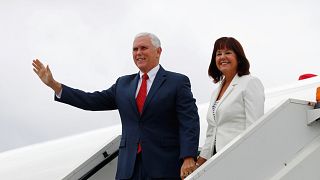 It is being described as a show of US support for NATO allies in the Baltics worried about the reach of Russian influence.
US Vice President Mike Pence has arrived in Estonia, at the start of a three-day trip that will also take him to Montenegro and Georgia.
The US Ambassador to Estonia, James D. Melville, told reporters: "I would like to think that everything that the US has done with our friends and allies has been a reminder to Russia, or anyone else who has challenged the security and stability of Europe should realise that we are not going anywhere and that we will meet those challenges".
Pence is also set for talks with the presidents of Latvia and Lithuania.
The Georgian army began two weeks of military exercises with the US, Britain, Germany, Turkey and other allies just a day before Pence arrives there.
Georgia's Prime Minister, Giorgi Kvirikashvili, said he hoped the exercises will help get his country closer to NATO standards and strengthen stability in the region.