Airport security boosted in Australia over alleged bomb plot
Comments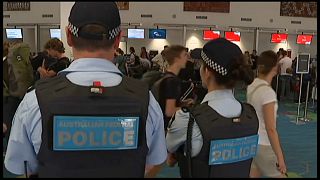 Security has been stepped up at airports across Australia after police said they foiled a plot for a bomb attack on a plane.
Four men have been arrested in raids on homes in Sydney.
Big delays are expected at airports during a busy time of the year.
One woman at Sydney airport said: "When I woke up and saw that on the news, yes I was very worried.
"Then I thought: 'Sue, it's probably going to be better coming now (travel) than at any other time because there's extra security."
Another woman said: "Well I don't mind getting here two hours early instead of one hour early, if it means that we can all be that much safer. It's great, yeah."
Authorities described the alleged plot as Islamic-inspired.
Counter-terrorism police say the plan allegedly involved the use of what they call an "improvised device".
Andrew Colvin, the Australian Federal Police Commissioner, told a news conference: "Well we have taken this threat very seriously. So in that itself you should infer that we think that this was credible and that there was an intention and there was quite possible a capability as well."
At least five properties have been searched in various suburbs in Sydney and police say the raids are ongoing.
Those arrested have not yet been officially charged.