Tight security for disputed ballot in Venezuela
Comments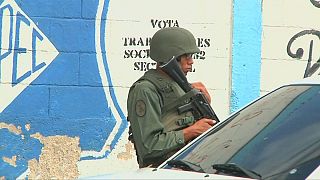 Security is tight at voting stations in Venezuela, as the country prepares for elections for a legislative assembly that critics claim will give embattled President Maduro a tighter grip on power.
Many opponents say they will not vote in Sunday's ballot.
Demonstrations in the country have been banned since Friday but some protesters are vowing to take to the streets.
Of the more than 6,000 candidates for the 545-member so-called "constituent assembly", not one is from Venezuela's opposition.
The opposition boycotted the election, claiming it is rigged in favour of President Maduro.
Already weakened by recession, the country has seen four months of violent anti-government demonstrations that have left more than 110 people dead and scores injured.