Hamburg supermarket attack suspect 'known Islamist'
Comments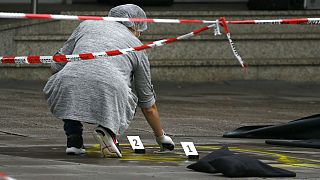 Police in the German city of Hamburg say the suspect in a deadly knife attack in a supermarket was what they call a "known Islamist but not a jihadist".
One person was killed and seven others injured in the attack.
The Hamburg State Interior Minister, Andy Grote, told reporters: "What we can say at the moment about the perpetrator's motive is that there's a link to religious motives, Islamic motives.
"On the other hand, there is also evidence of mental instability."
The suspect is a 26-year-old migrant who had requested asylum.
Authorities say previously they were unable to deport the man because he had no identification papers.
Investigators say they believe the suspect acted alone, but the possibility that there were accomplices has not yet been totally ruled out.