Pressure mounts on Pakistan's governing party to elect new leader
Comments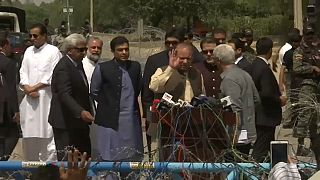 Pressure is mounting on Pakistan's governing party to elect an interim leader following the dramatic resignation of Prime Minister Nawaz Sharif.
A unanimous decision by the country's Supreme Court to disqualify him from office is likely to shift Pakistan's tumultuous political balance.
The charges stem from disclosures in the Panama Papers in 2015 linking his children to offshore companies.
Lawyers opposed to the ousted prime minister cheered as the decision was announced. Some even took to the streets marching and chanting anti-sharif slogans.
Allegations of corruption have dogged Nawaz Sharif since the 1980s.
Political analyst Mazhar Abbas says this decision will either strengthen the country's democracy or weaken it. But he said looking at it in a larger context, "this decision will go as an historic decision to make Pakistan free from corruption."
The Supreme Court has also ordered a criminal investigation focusing on the Sharif family.
The Pakistan Muslim League, must now choose a new leader to govern until the next general election, which is scheduled for mid-2018.