Watch: Lorry drivers caught doing paperwork and watching films at the wheel
Comments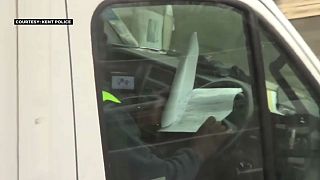 This is the moment lorry drivers in England were caught doing their paperwork, making calls and even watching a movie at the wheel.
Police went out in their own truck to film drivers and catch them in the act.
They were caught on the M20 in Kent, south-east England, between July 17-21.
It comes after a lorry driver was jailed last year for killing a mother and three children near Newbury when he was distracted by his phone and ploughed into their vehicle (see from 1m 44s, below).
Superintendent Andrew Reeves, of Kent Police, said: "This five day operation has made it clear that despite the costs, a minority of motorists are still prepared to break the law.
"Any momentary lapse in concentration, such as talking on the phone, texting or looking at a device such as a laptop in the vehicle, can have disastrous and life-changing consequences."
Matthew Scott, Kent Police's Police and Crime Commissioner, said: "It was quite scary to see what people were doing at the wheel. As a passenger, I saw several people texting or using a phone while driving."