Sweden in political crisis over botched outsourcing deal
Comments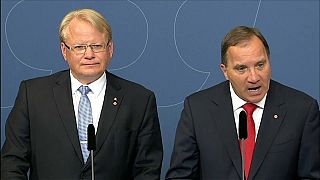 Sweden is in the grip of a political crisis as Prime Minister Stefan Lofven reshuffled his minority cabinet in a bid to avoid calling an early election.
Opposition parties had demanded the resignation of three government ministers over one of the largest security breaches in the country's history. Interior Minister Anders Ygeman and Infrastructure Minister Anna Johansson have stepped down, but the prime minister stood by his Defence Minister Peter Hultqvist.
"Anna Kindberg Batra and Jimmie Akesson's motion of no confidence in the defence minister is completely facetious. Now it is up to the parliament and every member to take a position," said Stefan Lofven.
The government is reeling from the news that unvetted foreign IT workers were granted access to confidential information in the government and police database in 2015 when the Transport Agency outsourced some of its services to IBM in the Czech Republic.
Lofven has admitted that, as a result of the way the contract was handled, his country and its citizens were exposed to risks by potential leaks of sensitive information.